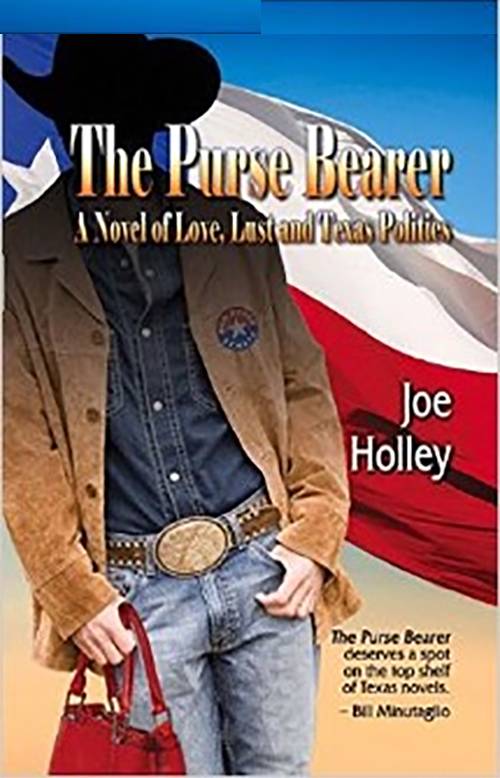 The Purse Bearer: A Novel of Love, Lust and Texas Politics
by Joe Holley
San Antonio: Wings Press, 2014
323 pp. $16.95 paper
Reviewed by
Joe McDade
A Texas political campaign is a tale of retail campaigning, one Van Horne and Lockhart and Madisonville at a time, endless series of stump speeches to sweaty, half-attentive audiences who have come out to the town square less for the candidate than for the barbeque and the iced tea (or, they hope, the free Shiner Bock). Such is the world captured by Joe Holley in his stem-winding, sometimes exasperating, but still marvelous novel, The Purse Bearer: A Novel of Love, Lust, and Texas Politics.
To anyone familiar with Texas elections, Holley's opening passage strikes home: "Let it be a day in August, deep in the grip of summer. And let it be a small Texas town, a town with a domed limestone courthouse from an earlier century, a sturdy structure set in a sturdy courthouse square." Precisely. Holley starts well, and then, as he peoples the courthouse square with his main players, gets better.
The Purse Bearer fictionalizes story of the 1980 Senate candidacy of Rose Marie "Red" Ryder, a force of nature whose roots stretch all the way back to the legendary "Ma" Ferguson, elected to the governor's office in 1924 after her husband, Governor "Pa" Ferguson, was impeached, convicted, and removed from office. (Never mind England: There will always be a Texas.) The story is told through the point of view of Wiley T. Foxx, the candidate's body man and, yes, the person in charge of holding Ryder's purse during campaign stops.
Anyone who follows Texas politics will be familiar with the novel's historical parallels. Holley has taken the 1990 Texas Governor's race, recast it as a Senate race, and set it down in 1980. Ryder's rival, Jimmy Dale Sisco, is the embodiment—indeed, the burlesque—of the unfortunate Clayton Williams, the Republican who stormed to the 1990 gubernatorial nomination, held a double-digit advantage over Democrat Ann Richards through most of the summer, then watched his lead disappear by way of one unforced error after another.
On the book jacket, Holley is described as having "spent time in the political trenches working for Texas Governor Ann Richards," and it is clear where his sympathies lie—in real life, and toward his own characters.
Jimmy Dale Sisco's blunders are a re-telling of Clayton Williams's hit parade. Does Sisco talk about the weather at his ranch by making a rape joke to reporters? Oh, yes. Does Sisco fuss and fume, ramble confusedly and appear genuinely flummoxed, during a televised debate? Yup. Finally, does Sisco refuse to shake hands with Red Ryder (a lady, let's remind ourselves) in full view of television cameras? Are there stars in the Texas sky?
Nicely, Holley does not allow his story to follow its historical analog to the end. Not to give it away, but he mixes in a little Bush v. Gore, some of the Minnesota Senate race of 2008, and a soupcon of the fourth season of The Good Wife—a combination that goes down as pleasingly as a chicken-fried steak at some beloved greasy spoon on Route 290.
The most unfortunate aspect about The Purse Bearer is the number of its errors, starting with the typos (too numerous to excuse, even for a small press) and working outward. Perhaps commingling his candidate with her real-life prototype, Holley once refers to a sign reading "Red Ryder for Governor." Later in the book he refers to the contest as the "governor's race." Reference is made to a cartoon strip—"Mary Worth, girl reporter"—when Holley certainly means Brenda Starr. And anyone, for verisimilitude's sake, who wants to refer to the Boston Red Sox should be sure to spell "Yastrzemski" correctly. (And this might be a small quibble, but no, the Sox did not make a run at the "American League Pennant"—Holley must mean the American League East Divisional Championship—in 1980; they fell out of contention early in the season and never came close.)
Typos and errors aside, Joe Holley is a real talent, and for any fan of Texas politics, or Texas fiction, The Purse Bearer is a loose, baggy monster that does not fail to entertain.
---
Joseph McDade is a professor of English at Houston Community College.